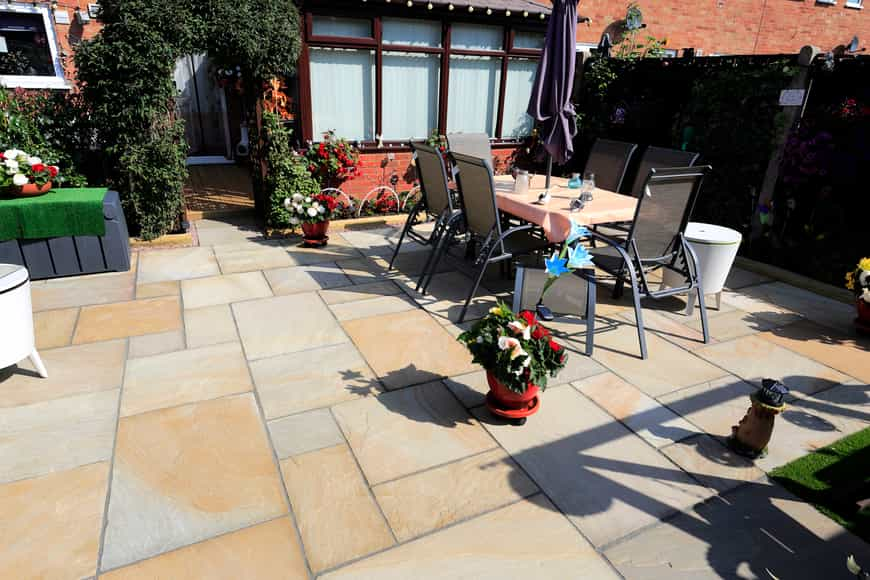 This week's featured landscapers are Mick and Ben from M & B Landscaping with their Rippon Buff Sandstone project in Peterborough.
M & B Landscaping, Peterborough
Mick and Ben have created so many fantastic projects in the time that we have known them.They specialise in fantastic patio laying skills, but also create fantastic lawns, whether that is real or artificial turf. As you can see above, the jobs they complete look fantastic. Who would be happy with that as their garden!
If you want to take a look at Mick and Ben and the services they offer, take a look at their website here: M & B Landscaping. They have been in business since 1991 and have years of experience in the industry. You would be in safe hands.
Rippon Buff Sandstone Paving Slabs
Indian sandstone is an ever popular choice - it is colourful, resilient and easy to work with. Rippon Buff is one of the most decorative sandstone slabs on the market and is full of bright colours that will make your patio pop!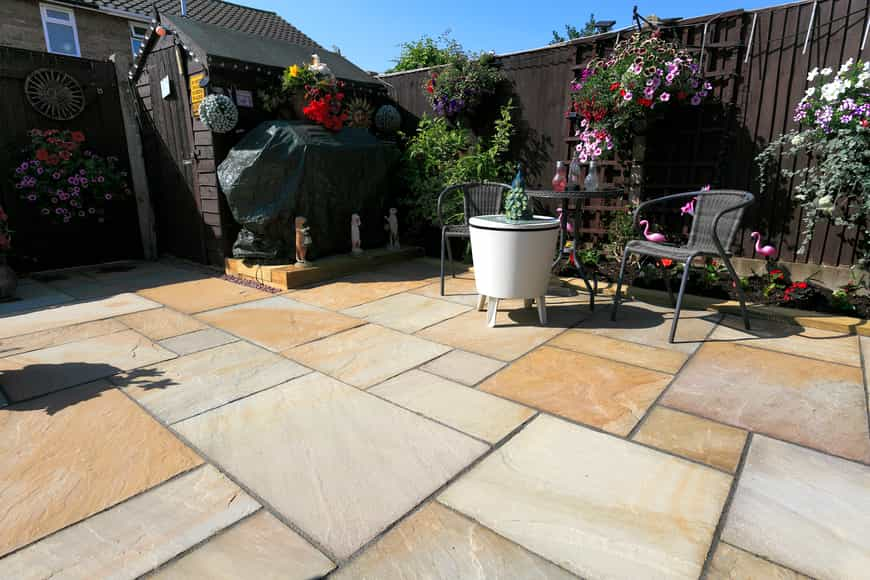 If you choose Rippon Buff for your patio, you'll get something that's going to stand the test of time as well as instantly brighten your patio! A very good option for everyone!
---
M & B Landscaping Rippon Buff Indian Sandstone Project: Gallery
The latest job was photographed in full. It's full of quirky features as well as top quality patio work as always. Take a look:
How To Recreate The Look: The Features
Seen something you like the look of? There are some really standout pieces in this garden. Here's how you can get them:

Not strictly identical - but a metallic 6-seater patio set can give you a perfect place to eat and spend time at during the warmer months.
This selection is made of copper, which means is a perfect material to stand up to the weather and will age at a much slower pace.
The Ancona Outdoor Patio Set is an incredibly nice choice!
Always useful! Get your bits and bobs tidy with a hand outdoor storage unit.
Going for plastic ensure that it's not going to fall victim to the weather. Try this one here with a 400L storage capacity.
The above project has a small addtional table and chairs for which is easy to move to make sure you keep in the sun.
This Marko Outdoor set is the most similar set to the above.
Garden Decorations & Accessories
This garden is FULL of personal decorations - make sure you accessorise to really make your space feel like home.
There are a huge range of accessories on Amazon - have a good look through and make sure you get those extra bits you love!